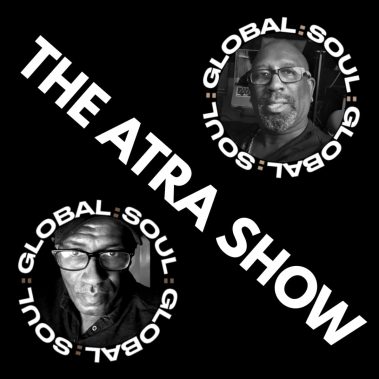 The Atra Show
Thurdays 7pm
The Atra Show
Atra Sound was formed in the early 70s by Andrew Atra, his two brothers, Tony P and a few friends joined soon after by Stanley T. At the time when Sound Systems played predominately Reggae Atra were one of the first to do more than play the odd token mainstream Soul record but a full selection of more underground tracks, many that would many years later be considered Rare Groove or Steppers Classics but played as new releases. Although trail blazers and ahead of the game in the Soul arena they could stand shoulder to shoulder with any of the highest-ranking Reggae Sounds of the day and often played back to back with legendary pioneering Sound, Sir George, who they found complimented their approach to music. They even played the Co-Op Hall with the mighty Jah Shaka.
The reason for their success was both Andrew and Stanley were avid Record Collectors with an insatiable appetite for knowledge and Music they soon built up an impressive music collection. Although as many DJs know having the music is not enough equally important is knowing how to select the music even more so when introducing music to crowds a skill to this day few have mastered. This is what made them special, their ability to break music where most DJs would simply play safe not only because they lacked the knowledge but did not know how to play the music in such a way as to keep the crowd's interest in stuff they did not yet know. Over the years Andrew became better known for his Sound and his mic skills with his unique deep gritty voice with Stanley becoming the fountain of musical knowledge in both Reggae and Soul, for those that know. Stanley is often referred to as the 'teacher' a quiet and humble person who shuns the limelight but who has 'fed' the Soul scene in a way that has influenced much of the soundtrack we enjoy today. Whether people realise it or not many of the tracks we consider classics now were first introduced to the scene by this man. Few can rival his knowledge or ability to break music. He found the tunes and for those lucky enough to receive his wisdom first hand they were able to bring them to a wider audience. He has an ear for music that is always ahead of it's time with an ability to consistently unearth and discover music that will resonate with audiences that has persisted over five decades. His passion and appetite for music is as strong today as it has ever been. The true definition of a trail blazing taste maker.
In the early days of the Atra Sound they became the first residents of the legendary Club, Night Moves, as well as keeping their own dances in Lewisham at the infamous St Stephens Hall & Lochaber Hall. They played at Cubies which later became known as Oasis as well as the usual array of Blues Dances.  At one point they even had their own Football team!
In the eighties Stanley teamed up with Mr Biggz , MJ aka the Professors to form a Sound call Frenz.  MJ soon left and was replaced by Tony P, the name was changed to Just Good frenz and became one of the most popular Sounds of the time. Stanley was the musical driving force behind their success, leading the way and breaking so many tracks at the height of the London Underground Soul Scene known as Steppers or Rare Groove. His knowledge was so sought after he was recruited to join Victor at one of the most prolific record stores of that time, BPM, set up by Chris Sweeny and would later be joined by another fountain of knowledge, Junior. Together these three oracles of Soul Music built the foundation of the rare soul scene in London which still flourishes today. Many of the origins of the most in demand and sought-after records now can be traced back to these three during that period. They were able to supply the volume needed often due to their little-known close affiliation to legendary record dealer John Anderson giving them unique access to sufficient quantities to feed the demand they created for records often shunned by Northern Collectors. This was at a time when the Northern scene was the main stay of John's customer base so it became a mutually beneficial arrangement as they had the knowledge and John could source the records through his unrivalled network of contacts. John had a keen ear for music too and soon learned from them the type of sound that worked in London so before long began introducing them to tracks too!
Atra Sound during this time had remained consistent with Andrew and his Brother Trevor at the helm remaining at the core of the scene throughout the decades.  However, during the nineties as Sound Systems in the traditional sense became superfluous with the advent of club culture and the focus became on individual DJs as venues had more than adequate equipment with no need for the 'crew' and 'entourage' that came with Sound Systems Culture. In addition, the mainstay of the scene had moved on from 'Rare' Soul to contemporary Soul leaving many behind. Not Andrew and Stanley who as ever were at the for front of the new sounds, leading the way, so they re-joined forces now with a greater focus on radio creating one of the most highly regarded programmes on radio by DJs and listeners a like, The Atra Show, which we are delighted have on board joining the other highly acclaimed roster of residents at Global Soul. You can listen live every Thursday at 7pm or catch up on Mixcloud.