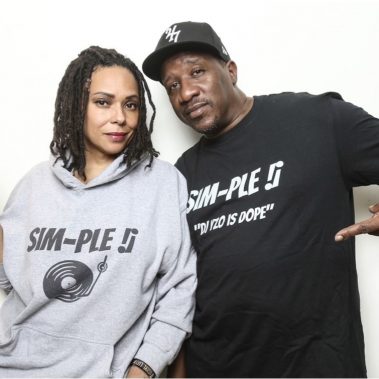 Soul Conversations DJ Lotus & DJ YZO
Sundays 9pm
DJ Lotus:
Sherri DéPollar aka (DJ Lotus), is the "jack of all trades and master of many" in the world of various forms of artistry. However, her passion has always been music of many genres. Growing up in the suburbs of Washington, DC, Sherri took a liking to her mother's wall-to-wall vinyl collection. Listening to Jazz, R&B, Soul and many other genres at a very young age and way beyond her years.
Sherri dibbled and dabbled in the music and entertainment industry, starting off with a short-lived singing gig with a local group out of Baltimore, Maryland called "Sultry". Soon, moving on and learning the ropes of marketing and PR for Capital Records/EMI (East Coast Division), followed by American Records/Warner Bros (nationally) for artist such as Freddie Jackson, Phil Perry, Bebe & Cece Winans, Sir Mix-a-Lot, Chino XL and Tigga to name a few. Eventually, going independent with Chameleon Entertainment, Sherri did marketing and PR for Green Shoes Recordings, Ichiban, and Rol-up Records for up and coming local and East Coast artists such as Brother Most and the well-known duo Born Jamericans (with Delicious Vinyl).
In the most recent years, Sherri continues to connect and support music, DJs and artists by doing voice overs, drops and social media promotions. Connecting with music curators around the world such as Kenyan born and raised Deejay Eric on Mixcloud and co-hosting a weekly show called "Lunch in The Music Box", interviewing Independent Soul Music artists live on YouTube. DJ Lotus joined Soul Conversations Radio, on WPFW 89.3 FM, Washington DC in 2020 as a radio co-host/programmer and DJ. After many years of being on the move, Sherri "aka" DJ Lotus realized that she simply wants to share her love and passion for music with the world. Specifically Independent Soul Artists.
DJ YZO:
Jay Stewart aka (DJ YZO), has touched nearly every facet of the music industry at one point in his 25 year career. Mix Show DJ, Tastemaker, Radio Personality, Record Label Executive and Music Marketing Guru are a few titles that he has achieved. Starting out as a DJ from Queens, NYC, Jay would make a move to the Washington DC area in the mid 90's.
After receiving a degree from the Omega School of Recording Arts & Sciences, Jay would soon land his first gig as a Promotional Rep. with Rawkus Records. Working with up and coming artists including Mos Def, Talib Kweli and Big L. Helping with the process of turning these artists from underground to Hip Hop Legends was a very humbling experience for Jay. After being promoted to a major label, MCA/Geffen/Interscope Records as a Marketing Representative, Jay would help market and promote some groundbreaking albums including, Common "Like Water For Chocolate", The Roots "Things Fall Apart", Mary J. Blige "No More Drama" and Blink 182 "Take off Your Pants and Jacket", to name a few.
In 2004, DJ YZO joined with Kimberly Washington to co-host Soul Conversations Radio, on WPFW 89.3 FM Washington DC. In 2016, Soul Conversations Radio Podcast was created for the show that has established thousands of listeners worldwide and was awarded the "Top 15 Soul Music Podcasts You Must Follow" in 2019 which has now risen to "Top 10 Soul Music Podcasts You Must Follow" in 2021 according to Feedspot.com.