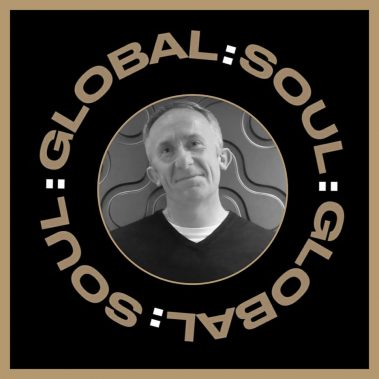 Russell Paine
Sundays 1-3pm (Monthly)
It all started really when i was about 13 years old. Being a mad football kid, pretty much my ever breath was spent playing football over my local field in Hatfield, Hertfordshire. One time my head was turned by some older kids playing music on their ghetto blaster. I didn't have a clue what they was listening to, but it did seem to hit some excite button straight away. Turns out it was Nucleus "jam on revenge" the wiki wiki song, an electro rap classic. I went home that night feeling i wanted to find out more, of which has obsessed, driven me to a lifetime of endless searching. So the record buying began, not just rap music, but i quickly figured out a lot of records were sampling disco tracks. I would trawl through early list from Soul Bowl records, go to all the black music record fairs, spend every Saturday in record shops. Because of liking samples my musical knowledge broadened quickly as i was buying jazz, psych, rock, folk, and of course soul and funk.
After many years of buying records and doing a few dj slots, like JM soul I got to play at the local university of hertfordshire's radio station called Krush Fm. This was a great experience and i did the show with a student called Bernard Achampong who has gone on to work for the BBC and radio programming. Most days and nights were spent making rap beats on my Commodore Amiga computer, and after a few years decided that i needed to take the music further and get myself a real sampler we could use and take into the studio.
Myself and two other people had formed a group called The Gutter Snypes. This consisted of Mc Cel One and Dj prime cuts. We didn't real shop our music around but a chance meeting with Tooting based record shop Liberty Grooves led to us getting a record deal with them. We only released one Ep called "The trials of life" in 1994. I made all the beats for this ep, with Cel One rhyming and Prime Cuts on the scratched. The EP was excepted really well with Blues and Soul saying it sold 5'000 on the first week, this for a uk rap records wasn't a bad achievement. The beats got picked out and one sample was featured on Madonnas lp Bedtime stories for the track "come inside me" After we left Liberty Grooves we were in talks with a few bigger labels. XL recordings and also Island were interested. Unfortunately because of the passing of a band members father and we decided that the time wasn't right to carry on.
I carried on buying records like a man possessed. Not just LPs but getting heavily into the rare soul scene.I got to Dj at many places, Sweden, Norway, Germany , Italy and the legendary Northern soul night at the 100 Club.
During my many years of getting vinyl records i discovered many songs, that other people didn't know, and also started to find and hook up with the people that made them, by searching them on phonebooks, Facebook, email and word of mouth.
Some say a professional stalker!
This led to having the opportunity to start up my own record label called Super Disco Edits. I really started this as a bit of fun, as i made a disco edit beat that i thought i would put out as a small 250 run press. Four years on and up to 33 releases later the label really has taken off and the music we have released has been accepted very well. We now specialise in releasing previously unissued soul music, that we get from original studio reels, or what the artist has, or sometimes an old recording studio may have lying around. Id like to think that we are one of the best labels putting out unissued soul music, not only this we are giving back and reviving careers of artists who have been let down by the music industry time and time again.
Amazing to think we are now working with some soul musical idols, including Leroy Hutson, Buddy Hankerson, Mike Theodore and Dennis Coffey , Willie Tee to name a few. Having the chance to release some unissued music by Arnold Blair "finally made it home" via Leroy Hutson where we sold 3'000 copies and thats firmly become a Mi-Soul classic. Being still that competitive 13 year old who got into music i cant stop the searching, and we already have up to SDE 42 ready and waiting to be released. Its a great honour to join the Mi-Soul Connoisseurs team, and am really looking forward to playing the records i've accumulated over 35 years of collecting and also being able to showcase some new material coming out on Super Disco Edits.