GS:NEW MUSIC
Moonchild – Little Ghost Album
23 July 2019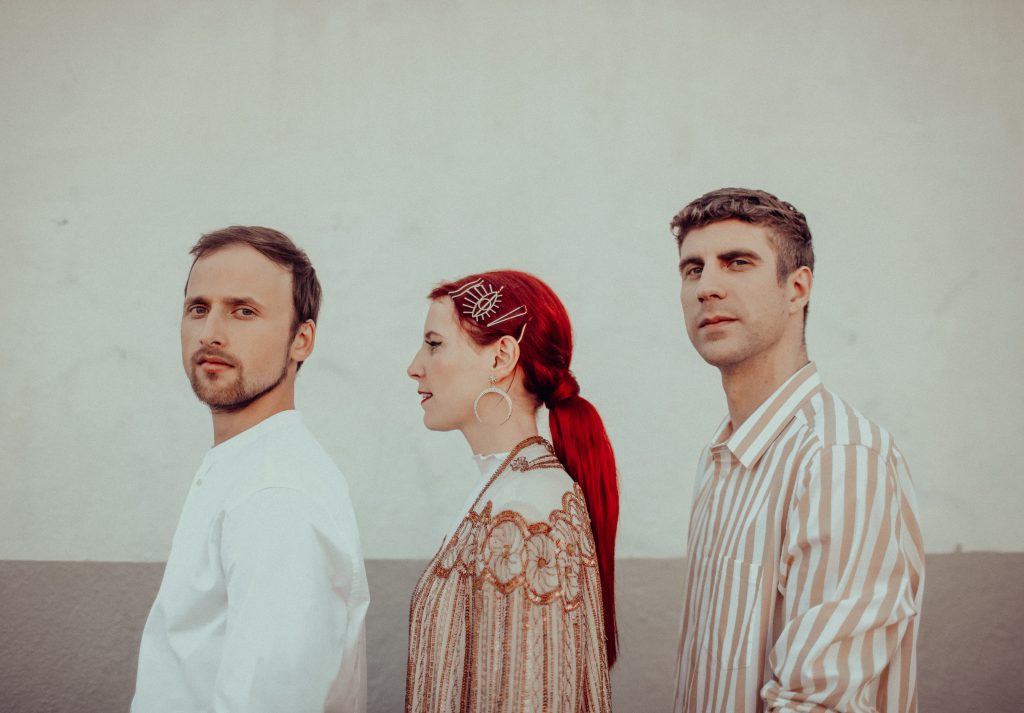 Little Ghost (out 6th September) marks the return of LA-based trio Moonchild with their most thoughtfully crafted and complete album to date.
Led by first single "Too Much to Ask"(out 19th July), the release sees multi-instrumentalists Amber Navran, Max Bryk, and Andris Mattson channel boundless sonicenergy as they explore some of the most personal aspects of what it is to be in love and to believe in who you truly are.
Opening track "Wise Women"sets the tone of the LP; with production, beats and lyrics coming from Navran as she offers hope to any woman who has ever felt undervalued or dismissed. Speaking of the influences behind the track, she adds; "Women are underestimated, especially women of colour. I think a wise woman, someone who's dealt with and conquered that feeling, doesn't wait for the opportunities to come to her. She re-invents the game, finds a way to be heard and helps normalise the image of a strong, badass, talented woman to the people who under estimate her and the women around her".
Lead single "Too Much to Ask" beautifully continues the emotional honesty behind 'Little Ghost'. "Lyrically, it's about realising the person you love doesn't love you like you love them", Navran explains. "We all want to be loved the way we love, right? Sometimes you reach a point of: is it too much to ask to be in a relationship with a person that feels balanced? That feels like both people are in it, in love to the same extent". As her voice shines softly over Noname-inspired production from Mattson, interwoven with an electric piano patch, a charming dash of guitar and a touch of ukulele, a sound is created as pure as the question asked.
Since the release of their critically acclaimed 'Voyager' album, Moonchild have toured the album across the world, with headline tours in North America, Asia and Europe as well as opening for The Internetand Kamasi Washington. Whilst travelling, the band wasted no time working on 'Little Ghost'as they started putting together beats and production ideas on the road; "Eventually we were able to spend time solely on the album, going to Lake Arrowhead for writing retreats and meeting up at each other's houses back in LA" says Bryk.
Channelling this collaborative spirit, the LP is undoubtedly a continuation of the Moonchild story as the trio work together to achieve the sound they feel represents the band; "Moonchild has been a project between the three of us where we work to achieve sound we all have in our heads, but can't articulate into words", Bryk summarises. This fondness for experimentation and teamwork follows acrossthe release, particularly through the instrumentation with band members coming together to formharmonies and horn solos; as shown in the funk-fuelled "Come Over" features three separate horn solos back-to-back-to-back from Moonchild with Bryk on Clarinet, Mattson on Flugelhorns and Amber on flutes showcasing their other worldly musical talent and respect for one another.
Speaking of "What You're Doing", Bryk talks throughtheir symbiotic writing process; "I love the way everyone collaborated on this track.I wrote the verse, then Amber wrote the chorus, Andris chimed in with the clutch intro/outro and we wrote the bridge as a group". Navran adds, "As I get older I feel more confident, more comfortable in my own skin, less socially anxious, but this track is about those charmers who still get to you". With a unique style of alternative R&B, soul and new-school jazz that has cemented theirspot in today'smusic scene, Moonchild continue to intertwinelyrical concepts with expansive glistening melodies, harmonies and irresistible interludes.
Taking its name from the most emotional of celestial bodies (in the eyes of the band), 'Little Ghost' follows the widely-praised 'Voyager' [2017] which was exclusively previewed by our very own JM (see below) , 'Please Rewind' [2015] and'Be Free' [2012] . 'Voyager' racked up 45million streams on Spotify whilst the video for single "The List" has gained 7+ million views on YouTube. Moonchild have collaborated and toured with highly-respected names from across music including Kamasi Washington, Stevie Wonder, The Internet, Jill Scott, been compared to the likes of Tom Misch and Jordan Rakeiand built up a host of iconic supporters from Robert Glasper (who collaborated with (who collaborated with Navran on his latest release with R+R=Now) and Laura Mvula to James Poyser, Jazzy Jeff, 9thWonder and Tyler, The Creator
Listen to their Exclusive Interview with JM here: