GS:VINYL
New IZIPHO SOUL 45s
22 April 2019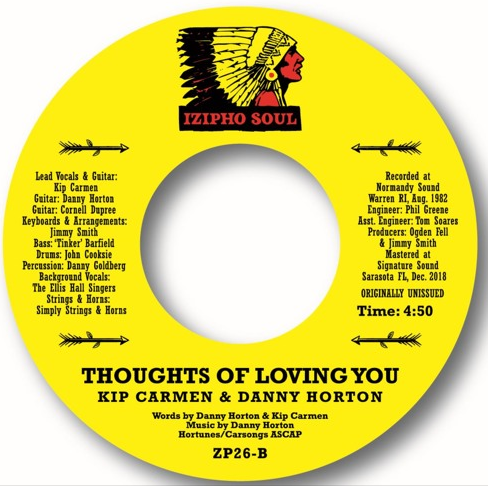 LOU WATSON – PLEASE DON'T LEAVE / DAYDREAMING
We are extremely proud to present these unreleased demos by New York Jazz/Soul singer Lou Watson. Recorded in October 1977, at the early stages of his singing career, these compositions were just too good to remain undiscovered!
Produced by Ronald Foster of Ecstasy Passion & Pain fame, Lou blends his sonorous baritone over a guitar, bass, piano and drum backing. We hope you enjoy their rawness and beauty!
KIP CARMEN & DANNY HORTON – TECIHILA / THOUGHTS OF LOVING YOU
Kip Carmen and Danny Horton are seasoned men of music. In the early 70s, Kip was signed to Memphis' legendary HI Records. He also had releases on independent labels, including Queen Bee, Reveille & AFE (with Danny), plus an LP in 1979 on Long Islands Sounds.
In August 1982 at Normandy Sound Studios, Rhode Island, the cream of New York and Boston session musicians assembled to record songs for an album release. Due to a prolonged recession in the music business and the onset of CDs, the recordings were shelved.
IZIPHO SOUL have captured two masterpieces: TECIHILA, which in Native American means 'I Love You' in a powerful and spiritual way. It's a post disco jam with sensuous lyrics – one of those songs where you can 'picture the scene'. The B Side – THOUGHTS OF LOVING YOU – continues the alluring theme at a slower tempo.
Some releases require more complex licensing work, bravery and belief. IZIPHO Soul are thrilled for Kip and Danny that these unique pieces of music have been rescued, restored and released on vinyl.