GS:VINYL
Sam Dees – Tag Tag (Vinyl Release)
14 April 2019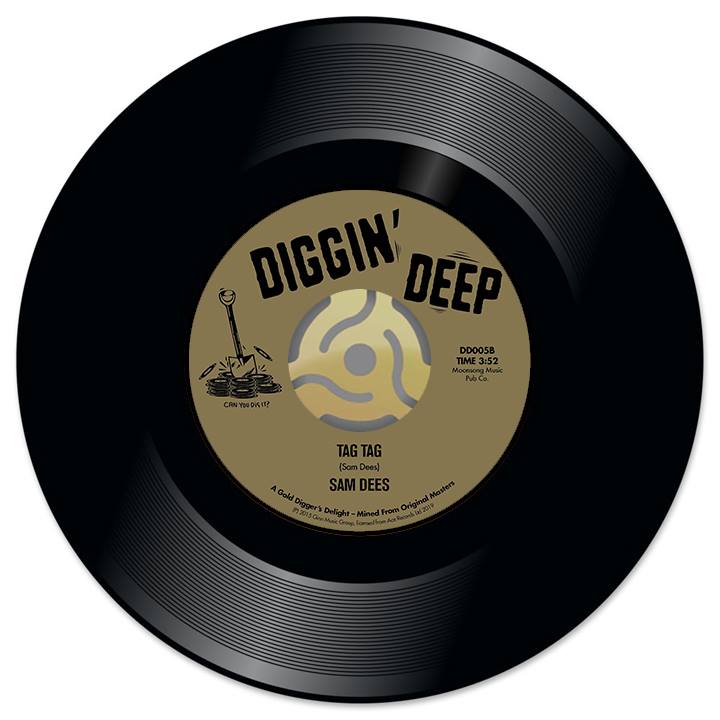 THE NEWEST 'DIGGIN' DEEP' LIMITED EDITION 45
DD 005A Sam Dees 'What's It Gonna Be'
DD 005B Sam Dees 'Tag Tag'
The latest 45 is another superb double-sider that Diggin' Deep are extremely proud to be able to bring to you.
Two tremendous Soul sides, each with a different flavour, though both are classic 'Southern Soul' tracks, emanating from the legendary Sound of Birmingham Studios, Alabama, USA.
The topside of this latest release is a title from the classic 'The Show Must Go On' LP. This particular cut was edited for a single release, which never saw the light of day on vinyl, that is until now.
The record has been a dancefloor smash for a very long time. DJ's who have enjoyed playing the track from the LP over the years will treasure this fabulous DJ / Radio edit on vinyl 45.
On the flipside is the demo of Sam Dees stunning Soul ballad, 'Tag Tag' written for Bill Brandon on Piedmont Records back in '76. This is yet another gem previously unreleased on vinyl until now.
This exclusive Diggin' Deep issue is its first ever release as a single and is out now for a very limited time on special edition vinyl 45.
Both Sides are written by Sam Dees and are a testament to this artist's undoubted and wide-ranging talent.
Diggin' Deep Records – Making available a series of excellent Soul recordings from the 60's and 70's, most of which will be released as a limited edition 45 for the very first time, and the occasional, carefully selected, re-issue. Dozens more titles are already lined up for limited future release. Keep informed by collecting the vinyl, joining the mailing list, visiting the website and social media pages regularly and ensure you're among the first to know!
Order here
Buy Now