GS:NEW MUSIC
Tony Momrelle – The Best Is Yet To Come (Album)
10 April 2019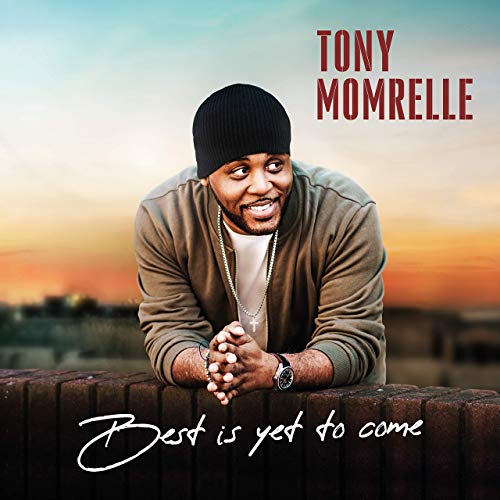 One Of The UK's Finest Voices To Release
Career Defining New Album
Best Is Yet To Come is the awe-inspiring new album from seminal UK soul / R&B star Tony Momrelle. Fresh from the success of the new single 'Rising Up', described by SoulTracks as "an instant classic" and supported by Global Soul, BBC Radio 2 and BBC 6 Music, as well of a plethora of leading soul music stations, Tony Momrelle returns with an exquisite new body of work that represents a decisive moment in his solo career. Best Is Yet To Come is arguably Momrelle's finest album to date, truly demonstrating his exceptional prowess as a songwriter, as well as showcasing the outstanding vocal ability for which he is widely known.
Described by Trevor Nelson as "a mainstay of the UK soul scene", Tony Momrelle has long been in demand as the go-to singer for a plethora of A-List artists, lending his vocal excellence to the bands of Sade, Chaka Khan, Earth, Wind & Fire, Janet Jackson, Gloria Estefan, Whitney Houston and Gary Barlow, not to mention being a lead soloist in the legendary band Incognito and the ever popular Reel People.
Now with Best Is Yet To Come, Tony Momrelle has channelled his inimitable talent into his own solo project, the result of which is an album that clearly positions him as an equal and contemporary of the luminaries with whom he has collaborated.
Tony explains: "In 2015, I launched my solo career with the release of my "Keep Pushing" album and have had the pleasure of working and touring with some of the best musicians in the world. My solo career is still very much in its infancy, and it's time now for me to show my fans, what I have been working on, with the creation of my own record label Vibe45 Records. This first release on the new label "Best is Yet to Come"is about shaking off the old and embracing the new, letting go of things, situations & even people that may hold me back and saying to myfans that the best is really yet to come from Tony Momrelle. This body of work has my signature sound: refined, authentic, contemporary soul with some bonus tracks which give an idea of what is to come. Thanks for listening!"
From the heartwarming optimism of the title track, to the disco funk of 'You Got It' and the smooth soul sound on 'We Searched For Heaven', Momrelle presents a vibrant and diverse canvas of songs that bring out the very best of his talent, leaving the sense that Best Is Yet To Come has something for everyone to enjoy. There are however vital elements running through each track that unify all: the sheer quality of songwriting and the unique, powerful tenor vocal that only Tony Momrelle himself can deliver. A listen to the album will allow the music to speak for itself!
LISTEN TO 'BEST IS YET TO COME'