GS:VINYL
Carlton Jumel Smith 1634 Lexington Avenue Album
13 March 2019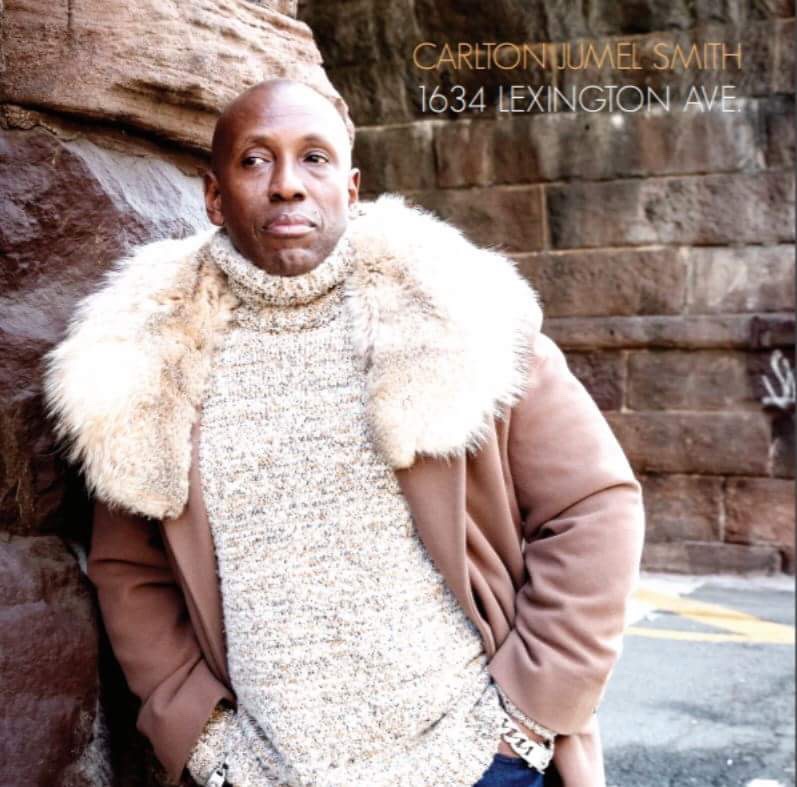 Carlton Jumel Smith
1634 Lexington Avenue
Album forthcoming on Timmion
From Harlem to Helsinki, the language of Carlton Jumel Smith only speaks loyalty and love. The smooth, vintage groove of 1634 Lexington Avenue traces the upbringing of an 8-year-old James Brown-fanatic, singing his way from New York's Puerto Rican district to dedicated entertainer clicking with the cooler climes of Finland's finest soul label, Timmion and respected producers, Cold Diamond & Mink.
Channelling warmth, positivity and only good vibes, like every note escaping from his soaring vocal range, Carlton Jumel Smith is an infectious human being. Putting the "show" into show business, he emits a dedication to his craft and whilst performing at Helsinki's Casino Ray, a happy coincidence would change his life forever. "I saw this Finnish cat named Pratt (of Pratt & Moody) tear the stage up with his smooth soul singing. After inviting me onstage, we jammed and connected. Following the show, I went to meet some Finnish friends and during dinner they pulled out a 45rpm they thought I'd like – lo and behold it was Pratt & Moody!"
As the needle hit the grooves, Carlton took it as a sign. He contacted Pratt and in no time, found himself among the vintage instruments and analogue recording equipment of Timmion's offices, singing "I Can't Love You Anymore," which would become his first single on the label. "It was like walking into a time machine and being transported back to the early days of Motown and Stax," recalls Carlton. "It makes you feel like you're going to record a soul classic."
If there's one thing Carlton knows, it's soul classics. In the summer 1968, while sitting on the fire escape of apartment 4S at1634 Lexington Avenue a fourth-floor walk-up in located in Spanish Harlem he would lap up the energy of the neighborhood known as El Barrio.
His mother would constantly play the 45 records of Wilson Pickett, Isaac Hayes, Barry White, and Aretha Franklin, and in a life altering moment one evening she took him to see James Brown (who he would eventually portray in Barry Levinson's feature length film, Liberty Heights) at Harlem's Apollo theatre; "The curtains opened, and he came out in a royal blue suit with a diamond pinky ring that sparkled up to where we were sitting in the balcony," remembers Carlton. "He was amazing. Other boys wanted to be Batman, Superman, or the Lone Ranger. I wanted to be James Brown. That time was when music was real, organic and created by some of the most talented/creative people to exist. They were at the peak of their powers."
As the sound of soul artists of the day filled the flat, Carlton's mother would sing and dance to each note whilst his Puerto Rican Godmother Carmen Rodriguez would play the passionate and vibrant Latino music of Tito Puente, Willie Colon, Celia Cruz and the Fania All-Stars. "The music was intoxicating, you could get swept up in the rhythms and Salsa dance all night long. My mother was my first DJ! She kept my mind open with the records she played. I still have all of her records, albums, cassettes and 8 tracks."
Through troves of classic 1970s R&B, 1634 Lexington Avenue explores the golden age of Curtom, Memphis soul and Motown. Opening with dance floor-ready testimony, 'Woman You Made Me' the poetry of Curtis Mayfield and tenderness of Otis Redding ring true as Carlton channels the spirit of those heroes whose names are tattooed down each of his arms. On his right limb; James Brown, Al Green and Bobby Womack. On the left; The Temptations, Marvin Gaye, Willie Hutch and more. Meanwhile Cold Diamond and Mink's production, 3-piece horn section (Jukka Eskola, Jimi Tenor, Pope Puolitaival), Sami Kantelinen on Bass, Jukka Sarapää on Drums and guitarist, Seppo Salmi add Menahan Street Band stylings to devastating Chi-Town groover, 'Remember Me.' At times unsettling, the truth of Bobby Womack is heard on 'Help Me (Save Me From Myself)' and 'We're All We Got' offers a Curtis Mayfield styled message for the world as Carlton sings, "You've got to give a damn if you can."
"My career takes me all over the world and I've learned people are far more alike than they are different," he says. "Music touches people more than politicians ever will, so as long as you can touch them with your records, you can move them." Currently residing in Manhattan's Upper West Side, Carlton remains close to his Puerto Rican roots and whilst others may fantasize of castles in the sky, this performer has his goals set, but feet firmly on the ground; "I'm not in New York as much these days… but one day I will buy that building on Lexington Avenue and return home to do great things for the community that gave me my identity.".