GS:NEW MUSIC
Joey Negro – Remixed With Love Volume. 3
14 November 2018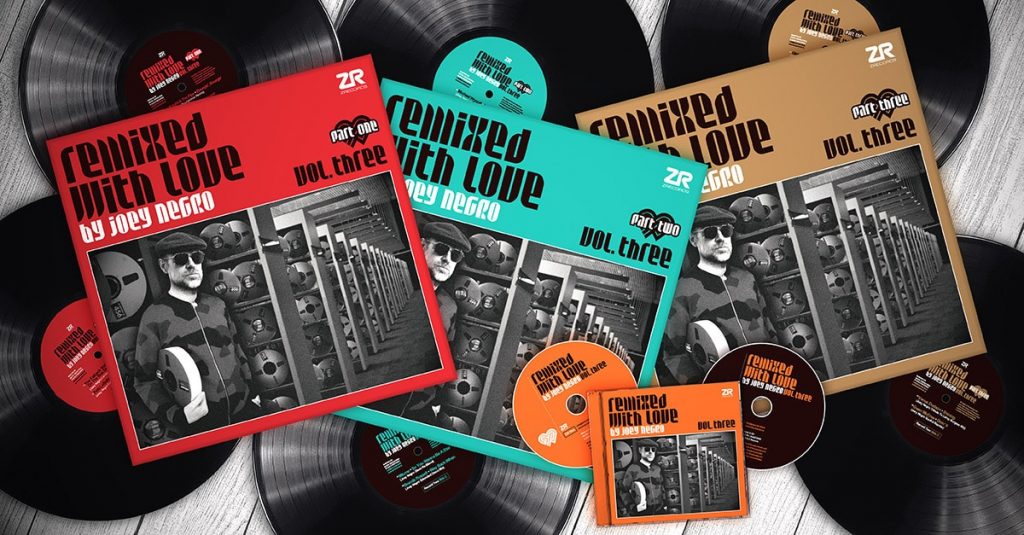 So here we are at Remixed With Love Volume 3.
Getting to release stage on any album always feels like a sense of achievement, these projects were normally started several years beforehand and the RWL albums are particularly hard going in pretty much every respect. Judging from comments and suggestions I get from people online thankfully there is still a large appetite for re-workings of 70/80s material, something you can't bank on when you embark on the project.
I can clearly remember in the 80s having fantasies about being a remixer and dreaming of tweaking my favourite songs and re-releasing them. I really never thought it would happen. The days when I receive the parts for some of these classic recordings are literally a dream come true. What also makes the process more fulfilling is that I'm both the A&R man and the remixer, so I'm not thinking "is this what the label want/will they like it", I just have to please myself (not that that's easy). I also don't have to have it finished by a certain date. If I'm not happy with what I've done then it doesn't get released. Like anything creative remixing isn't an exact science. Some songs I've wanted to get access to the multi for ages turn out to be far less straight forward than I imagined. You know it's a great track but unlocking the key to doing a worthwhile new version doesn't always come easy. To make more of a feature of one element sometimes means there has to be less of something else. There is no A&R man at the label pushing it through. We enter via the licensing department who would never be involved in commissioning remixes or any musical decisions. We are also dealing with the UK office for American owned repertoire. So there is lots of us chasing the UK for them to in turn chase the USA. This could be right at the start of the process in order to get permission to digitise the tapes or later on waiting for the remixes to be approved or simply to get the final contracts signed. At each stage long periods can pass with seemingly no movement their end. Quite frequently we'll get asked to resend something that went off months before, meaning literally nothing has happened up until that point. Even though they aren't paying anything for them unfortunately the personnel changes in the USA but by this stage I can't back out, not that they would care if I did.
RWL 2 was a successful album for ZR and I'm conscious of matching it but one thing I can't control is which multi-track tapes are available in the various tape archives. The lines between remix and edit have become blurred over recent years but these are remixes for which I need the tapes. So the contents of the album is partly down to what songs I chose but also which of those the labels had the parts for. I got lucky with some big mainstream tunes last time like "Pull Up To The Bumper" and "Ride Like The Wind". They might not be everyone's favourites but having that type of material on the album broadens the appeal. Another issue is that some of the bigger acts have artist approval on remixes, meaning the label need to forward the remix to the artists manager for them to hear and say they are ok (or not) with the new version being released. I spent ages on the Doobie Brothers "What A Fool Believes" with extra live bass and guitar only to be told it had been knocked back by their management. Another completed remix that is missing is Boz Scaggs "Lowdown", which again I finished before being told it needed artist consent. Six months later and still no clearance so we very reluctantly had to go ahead with this release without it. The only good thing about the above is it means there are very few legal remix albums like this, as logistically it's such a massive time consuming headache. Anyway, enough background info/moaning, I hope you enjoy the music.
Track Listing –
The Fatback Band –L.T.D. Love To The World
(Joey Negro Mizell Magic Mix)
Ashford & Simpson – Found A Cure (Joey Negro Found A Dub Mix)
(Are You Ready) Do The Bus Stop
(Joey Negro London Bus Stop Mix)
Booker T. – Don't Stop Your Love
(Joey Negro Paradise Mix)

Eddie Kendricks – Going Up In Smoke
(Joey Negro Big Smoke Mix)

Venus Dodson – Shining
(Joey Negro Tribute To Leroy Burgess Mix)
Never Gonna Give You Up
Law Of The Land
(Joey Negro Re-Grooved Mix)
(JN Tribute To Norman Whitfield)
Brenda Russell – Way Back When
(Joey Negro Extended Disco Mix)

Gwen McCrae – Doin' It

Change – Love 4 Love
(Joey Negro Extended Remix)

D.C. LaRue – Cathedrals
(Joey Negro Extended Disco Mix)

Motown Sounds – Bad Mouthin' (Joey Negro Raw Disco Mix)
Slave – Party Lites
(Joey Negro Boogiefied Mix)
Mass Production – Shante
(Joey Negro Cosmic Funk Mix)

Sister Sledge You Fooled Around
(Joey Negro Fooled Around With Mix)
Joey Negro – Must Be The Music (Joey Negro 2am Disco Reprise)
Wardell Piper – The Power of Love
(Joey Negro Power of The Boogie Mix)

Melba Moore – Anyway
(Joey Negro Second Way)

The APX – Sweet Surrender
(Joey Negro Re-Arrangement)