GS:VINYL
Smoke – Give Me Your Heart
6 November 2018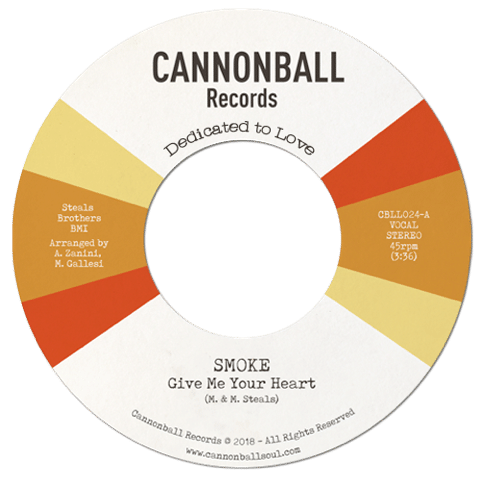 This record we produced with lyrics by the Steals Brothers and vocals by William "Smoke" Howard is dedicated to Love. It is either for the loves you lost for good or the love you lost but you've been so brave to bring it back to life. It's for the broken hearts, and for those who found a new one. It's also a song that embraces the many new beginnings we are forced to go through in life, and we soul people are use to do it with a dance, whatever will come around. I don't know if it fits the definition of cannonball sound but we all here at the label are sure it fits the one of "love for our music". So once again thanks to the whole label squad, including our very own Countryside Strings Ensemble that stole precious time from the seasonal harvest to come to the studio, guys said "Harvest is Love, but also Music is Love".
William Howard, known as "SMOKE" is a soulful messenger of "Life & Love". This one was penned and demoed some 30 years ago while "Smoke" resides in the Philadelphia area and continues to be active in keeping the sounds of the area alive. A native of Bristol – Tennessee, "Smoke" formed the group "The Fabulous Nu-Tones" while he was in college. After college, his singing career took off when he led and managed several East Coast bands including South Jersey's "Black Smoke". As lead singer of The Ebonys (beginning in the mid-1990's to current) he brought new life to the sound of Philadelphia with his rugged and powerful voice, slammin' the 90s with a dose of great hits that made The Ebonys famous. "Smoke" delivers, as only "Smoke" can, Smokin' Sounds with a Message You Can Dance To.
Out November 2018, official launch at Cannonball Weekender, Italy. 300 copies plus a handful of Test Pressings as usual.