GS:NEW MUSIC
Tim Tucker – Ain't That A Groove Thang
6 November 2018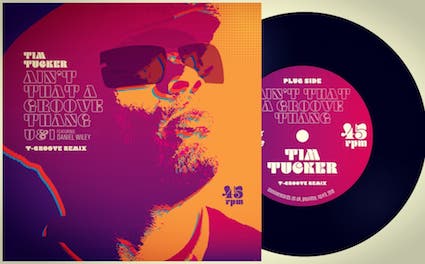 SOUL/DISCO/FUNK SINGLE HERE FOR THE FIRST TIME EVER, ON ANY FORMAT.
FROM THE INDEPENDENT UK LABEL SIX NINE RECORDS Ltd, BASED IN NEWCASTLE UPON TYNE AND WEAR. TIM TUCKER IS HERE WITH TWO BRILLIANT SONGS, FRESHLY REMIXED BY T-GROOVE. WITH HISTORY BEING PART OF GROUPS LIKE DAVINITY, BIRDBONE UNLIMITED AND LOVE CRYME, MR TUCKER HAS BEEN AN ACTIVE SONG WRITER, MUSICIAN AND ARTIST FOR A LONG TIME. TRULY NOT TO BE MISSED AS IT IS A LIMITED UK PRESS WITH SMALL HOLE AND FULL COLOUR PRINTED PICTURE COVER! THIS IS THE FIRST OF MANY PLANNED RELEASES FOR TIM TUCKER ON SIX NINE RECORDS.
SIX NINE RECORDS "GUARDIANS OF SOUL, FUNK, GOSPEL HOUSE & BOOGIE" PRESS RELEASE: 17th October 2018 Six Nine Records can proudly announce their latest single release, Tim Tucker with "Ain't That A Groove Thang" b/w "U & I". The beefy, funky top side with its distinctly retro vibe is complemented beautifully by the gorgeous soulful stepper on the flip. Singer/songwriter/producer and multi-instrumentalist, Timothy Mudbone Tucker is a true talent who has recorded with groups such as Davinity, Birdbone Unlimited and Love Cryme. With specialist Soul radio support already causing a stir and club play expected on both tunes. Both tracks are remixed by Yuki Takahashi T-Groove who has an excellent pedigree working with the likes of Cool Million, Tom Glide and McCrei. This latest release is set to continue our success as the UK's leading independent New Soul music label specialising in releasing NEW Soul and Funk singles on a 7" limited pressing format, and follows fast in the footsteps of Ryle (Frank Ryle of Cool Million) with his current club hit "Something's Got Me Walking On Air (T-Groove Remix)". Further Timothy Mudbone Tucker releases are planned in the near future, of which his second 45 is due for release early December entitled "What its all about"/ "Waterfall" and the eagerly awaited Cool Million collaboration with 80s Soul star Glenn Jones – of "I Am Somebody," "Keep On Doin'" and "Stay" fame – is due for release in early 2019.