GS:VINYL
SOPHISTICATED LADIES – THIS AINT REALLY LOVE
27 July 2018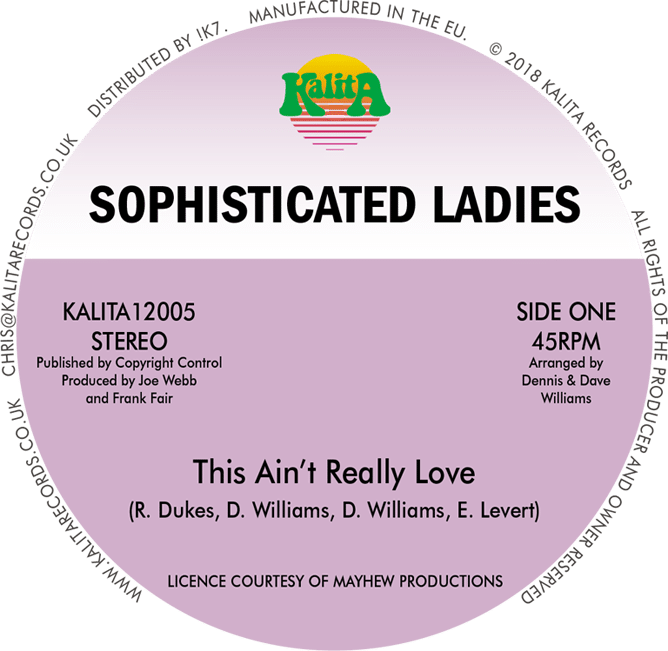 Kalita Records are honoured to announce the first ever official reissue of theSophisticated Ladies'
sought-after 1980 New York disco single & This Ain't Really Love, backed by a Mighty Zaf extended
edit of their 1977 release & Check It Out First formed in 1955, the Sophisticated Ladies started out as the R&B girl group The Bobbettes.
The group were signed to Atlantic and were best known for their 1957 hit single 'Mr. Lee', which peaked at
#6 on the Billboard Pop singles chart and remained #1 on the R&B chart for four weeks.
By the mid-1970s and with the emergence of disco, the Bobbettes created an alter ego, the
Sophisticated Ladies. Singer Emma Pought remembers that The Bobbettes' success with 'Mr. Lee'
had been both a blessing and a curse – on the one hand it had provided them with international fame,
yet by the 1970s it had become a constant weight and drag upon the group, typecasting their sound
and inhibiting their development as artists. As the group's co-manager and co-producer Joe Webb
recalls, "when we changed the name and gave the band a more soulful, disco sound, it made a huge
difference."
The Sophisticated Ladies released two singles between 1977 and 1980, they toured the southern
states of America (whilst also touring internationally as the Bobbettes) and received radio airtime
throughout the country. Here we present their scarce, choice cut 'This Ain't Really Love' with Love
Vinyl's The Mighty Zaf re-working their version of Bobby Womack's 'Check ItOut' on the flip, two
essential slices of high class disco.