GS:VINYL
Randolph Baker 'Getting Next To You'
27 July 2018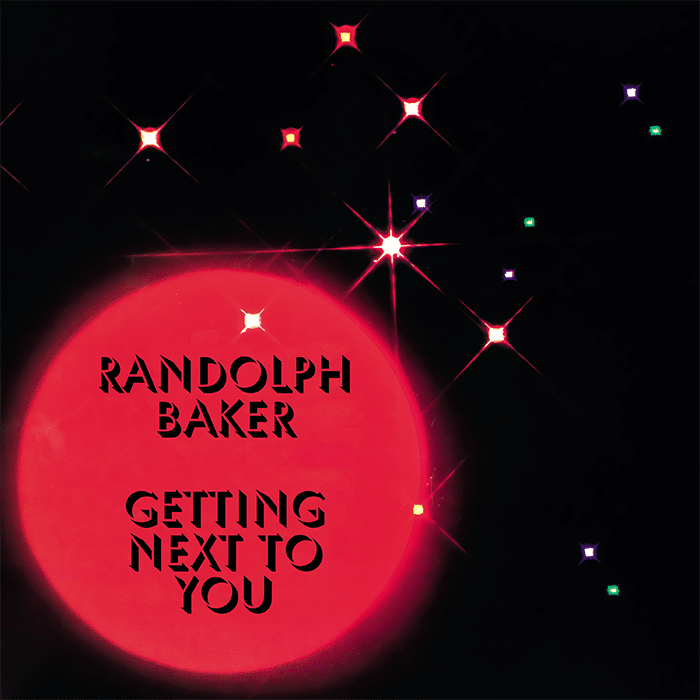 Born in Mariana, Florida on 18th December 1957, Randolph Baker demonstrated his
aptitude for music from an early age. As he recalls, "my parents say I was always beating on
my baby crib! Then I moved to beating on pots and pans. For as long as I can remember, I
was beating on something." It was this natural musical ability that he most visibly
demonstrated on his album 'Reaching For The Stars', originally released in 1982. Here, in
collaboration with Randolph, we are proud and honoured to make available once again the
four choice tracks from this scarce, brilliant disco record.
Randolph received his first drum – a snare – from his father whilst in elementary school and
had his first performance in Dade City, Florida, at the age of ten. As he grew up in Dade City,
so his skills as a drummer improved, and he performed in his school's marching band and
led his own group, Bakerstreet, although he candidly notes that they "were not that good."
As he stated frankly in the Musicians National Hotline Association directory in 1977, Dade
City was "a town where there was no music and no future. So I learned to play through
listening to records and watching bands on television". He fondly remembers that at the
time he "only paid attention to James Brown's music… before I listened to any other
groups", focussing particularly on the drumming aspect of each song. This focus continued
even after his gaze spread from James Brown to other funk, soul and jazz outfits. "I listened
to them not by bands, but by drummer. Clyde Stubblefield with James Brown, also John
'Jabo' Starks, and David Garibaldi with Tower of Power. Buddy Rich, Louis Bellison, Art
Blakey, Joe Morello, Max Roach and Steve Gadd also influenced me. I found a local
drummer by the name of Bill Hannah also hugely influential. He was probably one of the
greatest drummers that was never known outside of Pasco County in Dade City, Florida. He
was a master of funk and triplet patterns, really unreal and lightning fast." In addition,
Randolph was also musically gifted at the piano and flute, although the drums took centre
stage.
He started playing professionally at the age of seventeen at Walt Disney World and then at
Busch Gardens. Randolph received a musical scholarship to college where he played in the
marching and symphonic bands of Florida Agricultural & Mechanical University. He also
performed on television and with other well-known groups such as the Joe Tex Band, Lionel
Hampton and the Bob Hope USO show for the armed forces.
By 1980, Randolph was a mentor and motivator for young children in the local Tampa area,
"teach[ing] them and get[ting] them to understand how to conquer this world". However,
he began to ask himself, "what had I done? If I died tomorrow, what would be my legacy?"
In response, he decided to record an album with musicians that he knew throughout
Florida. "Getting the band together", he recalls, "was easy since I was already familiar with
the great musicians around the Tampa, St. Petersburg area. I talked to them one on one to
see how they would feel about going into the studio to be on a recording. They all said yes,
yes, yes!" He was also fortunate to be able to get onboard local jazz superstar Nat Adderley
known amongst other things for his innovations in soul jazz and his jazz standard 'Work
Song'. Randolph recalls that "I loved to listen to Cannonball and Nat's recordings and I found
out that Nat lived only about 35 miles from me in a town called Lakeland, Florida. I
contacted him by phone and he invited me over. Of course, before we met I explained to
him about my project that I was involved with and that I wanted to leave my legacy through a recording so that 100 years from now, I will always be remembered. He replied that he would love to do it, just let him know the date and time."
The album was recorded at Jim Morris and Rick Miller's local Tampa-based studio
Morrisound, which opened in 1981 and had recently upgraded from an eight-track to a
twenty-four-track analogue recording system. Randolph was one of the first musicians to
record on the new system. Recording the album, he notes, was an important deal for the
local music scene. "Everybody was so upbeat; musicians coming by to check out things. It
was big, one of the first local projects to come out of Tampa, Florida… it was like being in
Times Square in New York on New Years Eve. Something that I will never forget." The four
songs we have chosen to highlight here are 'Getting Next To You', 'Jazzman', 'Callin' Me' and
'Party Life'. The former is a horn and chant-filled disco masterpiece, and as Randolph
explains concerns unity and "everyone on the same level… in other words, everyone just
loving life". It is arguably the song that Randolph is most well-known for in the disco and
funk scene. 'Jazzman' is an instrumental track with prominent trumpet and saxophone solos
working with funky basslines to produce a truly great jazz-funk groove. It was "a tribute to
Nat Adderley and Duke Ellingtons bass player, John Lamb, for being so generous and saying
yes to the project". 'Callin' Me' is a soulful disco number featuring the lead vocals of Laurie
Erickson and is "about being on the road and ensuring loved ones that you will always come
back home no matter what. It was like a promise to ensure loved ones they didnt have to
worry". Lastly, 'Party Life' is a joyous disco track with a strong funk bassline and horns. As
Randolph recalls, it "was the joy like after an actor finishes a movie. There was nothing but
joy. Its finished; lets celebrate big time. Where everyone in the studio yelled at the top of
their lungs – The End!" Here, with access to the 24-track master tapes we have been able to
include the original version plus an unreleased instrumental take, allowing us to focus on
the infectious bassline and make it even more ready for the modern dancefloor.
After two years of hard work, the album was released in a run of one-thousand copies in
1982 to great local acclaim. As Randolph recollects, "the album was very successful. It did
great around town, which is what I wanted it to do – it put me on the map." The album
received airtime on various local radio stations such as WTMP and WMNF and in fact, out of
the thousand pressed, nine-hundred-and-twenty-five were sold in the local Tampa area, in
local record shops and at gigs with Randolph "setting up a table in the back and signing
autographs". Although only being distributed in Florida meant that it arguably never
reached the true level of success that it deserved, Randolph's dream of leaving a local legacy
had been achieved.
Randolph never released another record – as he notes, "getting that calibre musicians
together was a once in a lifetime deal. Plus, I funded the project myself. All I needed was
one great project with my name on it. And thank God, all those great musicians recorded for
free." He performed as part of the Tampa Bay Brass Band between 1984 and 1995 and then
on-and-off when the opportunity arose, and he also toured for thirty years as part of other
groups, such as the Tallahassee-based Climaxx Band, the Bill Norman Band in Tampa, and
for numerous Off-Broadway shows. The last band he played with was his own, Bakerstreet,
but he now performs solely on occasion at local churches in Tampa. He is now a chef,
"cook[ing] all the time and play[ing] drums on Sundays". He retired from playing
professionally and touring ten years ago. In summary, he happily declares, "I had a great music career, made good money, and played with great people. I have no regrets!!!… Now
when I go out and mentor kids, I take a copy to show how you can succeed in life if you try.
Today, people still talk about Randolph Baker and his 'Reaching for the Stars' album."